---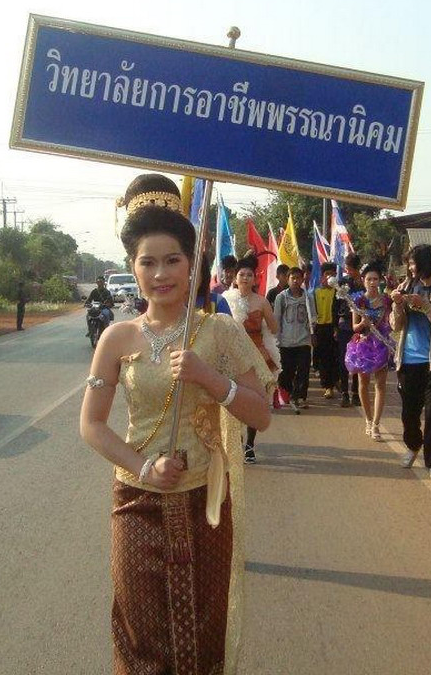 Name-Last Name   Ms. Jeerapa Dunmeekeaw (Ae)  

---
Education
Higher Vocational College Diploma, Department of Commerce,Accounting Major, Phanna Nikhom Vocational College Sakon Nakhon
---
Scholarship Year
7th Yr "Graduate with Ajinomoto Foundation's Scholarship" Year of graduation 2013
---
Present
Ajinomoto (Thailand) Co. Ltd., Finance and Accounting position
---
Motto
"Diligence is the root cause of success"
---
How did you feel when you received scholarship from Ajinomoto Foundation?
I was very happy and honored to receive such a good opportunity from kind adults. I feel like Ajinomoto Foundation is my family because all the staffs gave me advices and supports throughout.
---
How does the scholarship help you?
First, it helped reduce a big burden from my family. This scholarship has helped me to graduate successfully. Second, it gave me many new experiences and knowledge, as well as, emphasized the importance of patience and being a good person who will grow in the society and improve both yourself and others effectively.
---
What do you want to tell Ajinomoto Foundation and other future scholars?
First of all, I would like to thank all the kind adults and the Ajinomoto Foundation for the financial support that enabled me to graduate my degree. In addition, the foundation has given many opportunities and confidence to the students to have faith in their knowledge and capabilities in a good way. I want to say that that "I love Ajinomoto Foundation!"
I want to tell the future scholars to do your best to achieve your dream. For those who receive the scholarships, I want to tell you that it's a wonderful thing and I want you to keep it well because everything depends on you. I believe this scholarship can help you significantly. Being selected to receive scholarship is not easy, and you know you have to
compete with many other students, and get selected by the judges. There are many disappointments so once you get good opportunity, you have to do the best with it. You will receive a lot of love, warmth, and great experiences. Finally, I would like to tell you that Ajinomoto Foundation can develop you into a capable, ethical, and happy person. Thank you very much.
GALLERY
---
[Best_Wordpress_Gallery id="12″ gal_title="help-stu-11″]