---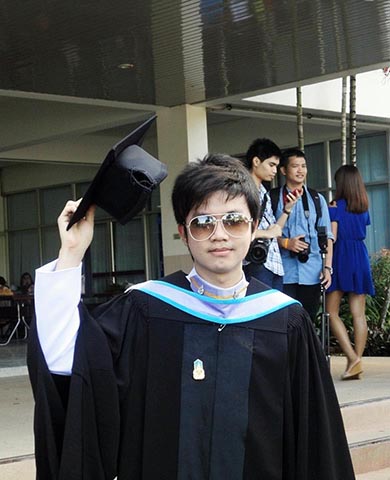 Name-Last Name   Mr. Nontanawat Wannapor (Nun)
---
Education
Bachelor Degree (Information Technology)
---
Scholarship Year
5th Yr. "Graduate with Ajinomoto Foundation's Scholarship Graduation year 2011
---
Current Work
IT Support @The Phuket News
---
Motto
"Tomorrow must be better than today"
---
How did you feel when you received scholarship from Ajinomoto Foundation?
I was very happy when I received the scholarship from Ajinomoto Foundation because I was able to help reduce my family's burden.
---
How does the scholarship help you?
Other than the financial support, Ajinomoto Foundation also provided other useful knowledge e.g. visits to the coffee manufacturer and other products, trainings on work processes, and other activities. This has made me more confident and happier, which helped me to get my career immediately after graduation.
---
What do you want to tell Ajinomoto Foundation and other future scholars?
I truly want to thank you Ajinomoto Foundation for giving many of us the opportunists to study and cooperate together happily. This scholarship may not cover my entire life, but my life became a lot better because of this fund. I want to tell all scholars, both graduated and future scholars, that we need to have a good attitude like Ajinomoto, i.e. giving back to the society when we have the opportunity to. We are all the same family.
I hope this program will be with the Thai society forever. There are so many other children who are waiting for opportunities like this. Many students are facing hardship and darkness. The Ajinomoto Foundation is light a bright light that helps lead them to a better path.
GALLERY
---
[Best_Wordpress_Gallery id="253″ gal_title="help-stu-16″]