---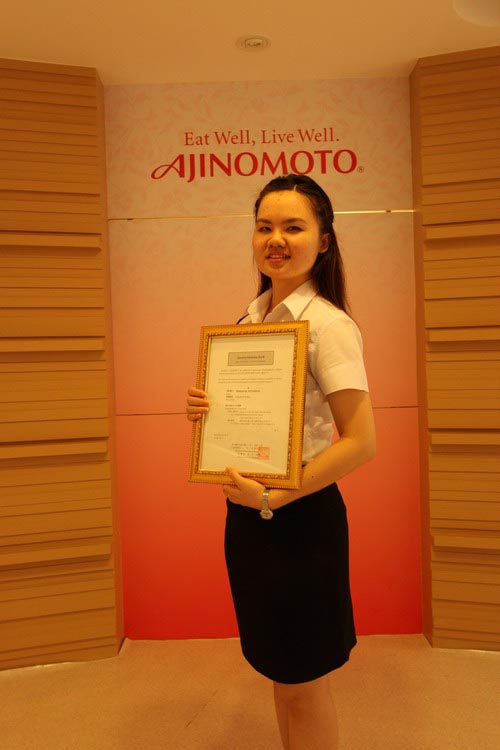 Name-Last Name
Miss Phattharawan Hongkham
---
Education
| | |
| --- | --- |
| 2016 – 2019 | Scholarship for the ASEAN SCHOLARSHIP Year 7College of Agriculture and Life Sciences University of Tokyo, Japan |
| 2010 – 2014 | Bachelor Degree in Agricultural Biotechnology, Faculty of Agriculture, Kamphaeng Saen Kasetsart University        (GPA 3.89) |
| 2007 – 2010 | High School in Mathematics, Chulaporana-Ratchavitthayalai School, Chiang Rai, (GPA 3.70)มัธยมศึกษา |
---
Present
Research at the University of Tokyo, Japan
---
Feelings
Thank you to Ajinomoto Foundation for giving me this wonderful opportunity. I promise to study at my fullest capacity and make the most out of my experience. I will bring the knowledge to help our country's agricultural development to become the leader of agriculture in Asia and the world.
GALLERY
---
[Best_Wordpress_Gallery id="245″ gal_title="Phattharawan"]
---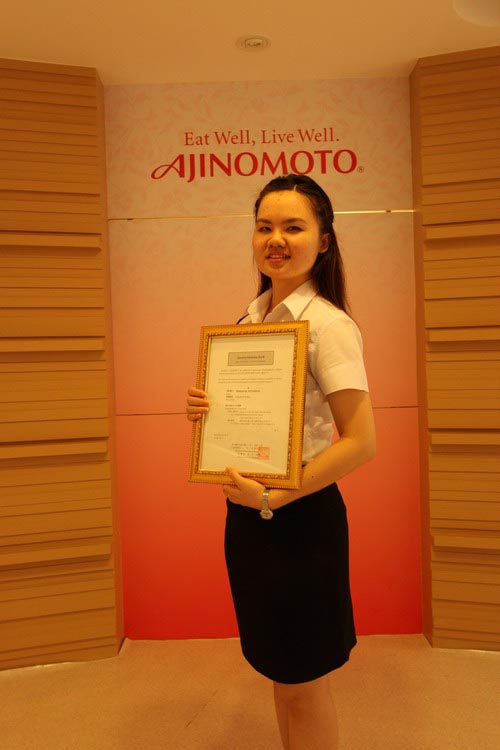 Name
Ms. Phattharawan Hongkham
---
Education
| | |
| --- | --- |
| 2016 – 2019 | Granted ASEAN Scholarship by Ajinomoto Foundation Thailand No. 7 Research study and Master degree, Graduate school of Agricultural and life science University of Tokyo, Japan |
| 2010 – 2014 | Bachelor dgree Agricultural Biotechnology University Kasetsart University(GPA = 3.89) |
| 2007 – 2010 | High School (Science/Math program) from Princess Chulabhorn's College Chiang rai (GPA = 3.70) |
---
Present
---
Impressions
Thank you very much for great opportunity. I will do my best. When I graduate, I will develop agriculture not only in Thailand or Japan but also countries around the world. Especially, Thailand will become the leader of Agriculture in Asia and the world.
GALLERY
---
[Best_Wordpress_Gallery id="246″ gal_title="Phattharawan"]
© 2014-2022 All Rights Reserved. By: Ajinomoto foundation 2015