---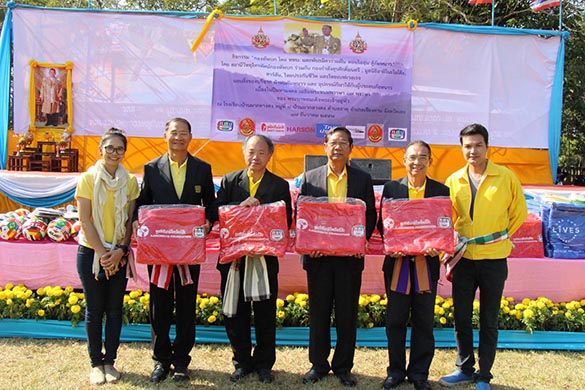 Project
"From Heart to Heart to Fight Coldness"
---
Location
Coldness disaster affected area, Chiang Rai, Chiang Mai, Loei Province
---
Highlight
Donated sweaters to the cold victims, in cooperation with TV Station 5
---
Ajinomoto Foundation together with Channel 5 Television Station donated 6,000 blankets worth 1,500,000 baht to victims in 4 provinces i.e. Chiang Rai, Chiang Mai, Loei and Sakhon Nakhon. The donation was done in 2 rounds below :
Round 1 On 10-11 December 2014, led by Mr. Suchat Naksawek, Director of foundation, and M.R. Hideki Chibahara, Corporate Liaison Manager, together with Gen. Eksathit Chamjumrat, Advisor to the Director of Television Station, and Army and Air Force Lieutenant General Setsiri Trisaksri, Senior Vice President of Technical at Channel 5, along with the foundation and TV5 staffs, donated blankets to the victims of the cold weather. Chiang Rai and Chiang Mai
Round 2 On December 17, 2014 led by Mr. Suradej Thiapairat, Director of Ajinomoto (Thailand) Co., Ltd. together with Gen. Sathit Chamchamrat, Advisor to the Director of TV5 Station, along with the staffs of the foundation and TV Station 5, travelled to give blankets to the cold winter victims in Chiang Khan district, Loei province. The atmosphere was filled with warmth from the villagers and givers.
GALLERY
---
[Best_Wordpress_Gallery id="219″ gal_title="winter-coat2014-01″]